Some of the reasons I got into photography is because it stimulates my creativity, as well as it gives me an opportunity to capture beauty or an interesting moment. I love images that draws you into them and tells a story and you wonder what happens next. I love expressions!
So I try to do this as much as possible in my own photos. One of my sources for inspiration is to look at other photographers and images. There are so many great photographers with great ideas and ability to capture beauty to take inspiration from. With the internet revolution the last few years it makes it even easier to see what else is out there and get inspiration to keep growing yourself. I tend to use
Flickr
a lot to browse, favoriting images I like and photographers I want to connect with. (Images in this post are not mine, but that I have found an inspiration).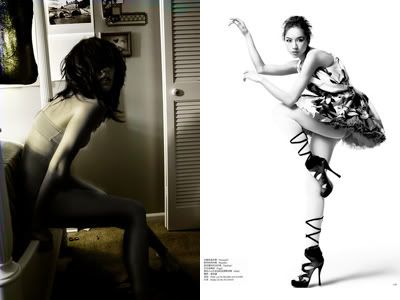 I tend to take pictures of people as I really enjoy capturing someone's personality, and it helps create a story in a picture. As I keep shooting I've discovered I'm most comfortable with portraits, but try to keep remembering to bring in the environment where it makes sense and can add to a picture.
I really love networking with other photographers to get their view on what inspires them and drives them to keep shooting, coming up with new ideas and what makes them tick as a photographer. Everyone has their own way of working and idea behind what they are doing. For me it still makes me feel like a kid at Christmas when I come up with a new idea and get a team involved in executing it and you see the final images.
For those that have been reading my blog or following my Flickr stream for a while, you'll know I did a project called "Losing You" last year. This year I have a new project! Also based on a song as last time, this one called "Look but don't touch". This will have a much more high energy and sexy vibe, and I'm so excited to get going on it! First shoot next weekend!