How quickly has December gone by?! It's Christmas already! For those of you who went to the concerts, you'll know that Ben Adams is a big fan of Christmas. He has Christmas lights in his music studio all year around :)
I've been asked a lot lately how it is to work with the boys in a1. For those following my
Tweets
or
Facebook page
you'll know that I've been photographing a1 during their seven 10 year celebration concerts in Oslo, Norway. I've also been following them around behind the scenes with a video camera during their TV performances, Radio appearences, rehearsals etc.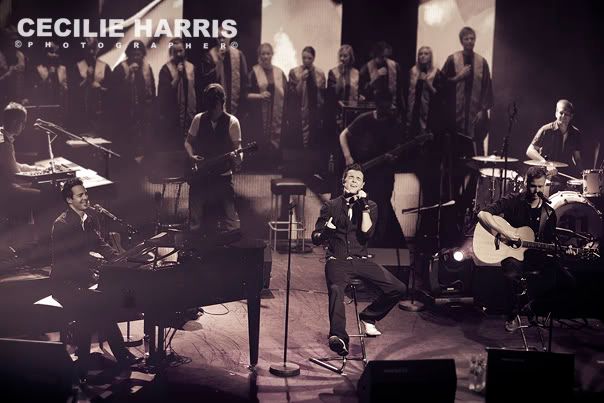 One of the things as a photographer I'm finding interesting is how everything seems to be moving in the direction of more and more video. So I'm not surprised that the new Canon 5D mark 2 camera I just bought (hurrah!!) has a movie function. I managed to capture some awesome video stuff during the concerts with my camera, so will be posting it at some point on my pages for sure. It was also awesome to have my new Canon 70-200 f2.8 lense for gig photography. I'm just starting to go through all the images I captured, both during rehearsals and concerts, and will spend some of my Christmas holiday editing those. Gig photography is a new challenge, as I'm mostly shooting in different lighting conditions and where models are more still, so this was a fun challenge.
So what happens behind the scenes in the world of a1? Lots of laughing pretty much! ha! I've been capturing a lot of it on my little Flip camera, as it's so easy to carry around and film moments that occur. Most of the captures I'll end up editing into a Behind the scenes video that gets added on YouTube, Facebook and the boys' video blog. Ben, Christian and Mark have so much fun spending time together, that for the rest of us that are part of the team, it's such a joy to be around them. Even if things doesn't go to plan, someone will make a joke about it and everyone will end up laughing. When Ben pretends to be a Transformers robot, built out of loud speakers and tables in one of the NRK waiting rooms, you can't help but laugh (or capture it on film for all to laugh at of course). It's those silly moments, and the genuine passion and talent the boys have for music, that makes it so inspiring to be part of the boy's journey.
Concert rehearsals
:
A1 - robots in disguis
e
More a1 stuff to capture in the new year as they will be entering with their new song "Don't Want To Loose You Now" in the Norwegian Eurovision contest. For those interested in more details, you can join this
Facebook group
.