Ian Cole is an inspiration to many people. I know this because every time I work with a male model he has worked with as well they speak about him and his photography with such passion and admiration. I also know this because as a photographer I find his work incredibly inspiring.
I'm very pleased to provide my readers with this exclusive interview with Ian. For those that are already a fan of his work, hope you enjoy. And for those who haven't check it out yet, you must do so! With his Supplementaire Magazine and now also Client Magazine, his art is starting to reach the masses, and making his stamp on the world of fashion and photography. His dedication and passion to what he does can be an inspiration to us all, no matter where we are on our different roads.
What inspired you to start picking up a camera and shoot in the first place, and how did you get to where you are today?
I've taken pictures since I was a kid and always loved it, but never thought about being a photographer til later in life. I worked in graphic design and as a creative director, so it was a logical move to take photography seriously as an art, and as my career choice.
I believe I've received the success I am enjoying today through a few factors - I work 24/7, I dedicate all my time to what I do, and believe that if you really want to be successful at something, you have to give up everything else for at least a few years. Many young photographers contact me moaning about their work not having an impact and their careers not going anywhere, yet they're out 2-3 times a week pissed in a bar/club. Without offending anybody, if you REALLY want this, it has to be your LIFE, with no compromises, ever. Spend every penny on developing your book, and every minute expanding your mind, otherwise it's never going to happen. That is real passion. The other side to that is, be patient, things don't happen over night.
Other factors that have helped me include the fact that I have had the pleasure of working with very talented people, who I chose to work with because of their passion, understanding, creative eye and lack of ego. I can't stand 'ME, ME, ME' people who just go on about how amazing they are and how things are so cool for them, and how successful they are. In my experience, these people are very insecure and trying to compensate for their failure.
What inspires you to photograph and produce such inspirational fashion stories and images?
EVERYTHING inspires me - my eyes don't miss a trick. Stupid things get me excited and I love shadows more than the models sometimes lol. It's all about keeping it real though, I don't like images retouched too much, I like things that are original and authentic. Otherwise you take away from being a photographer and become a digital artist. I am a photographer.
Also, as a graphic designer, I have a good understanding of composition, shapes and colours etc, and with photography you have the added elements of texture and you can play with light and shadow more. I like capturing the moment, the 'story', the emotion - whatever you want to call it, it's different for everybody and that is the beauty of photography. Different people see diferent things. If you engage the viewer and they keep looking, then you have a great image.
I often hear from both models and photographers who are great admireres of your work. What advice would you give to anyone budding models or photographers out there that wants to get into fashion?
Work your ass off.
Be original.
Don't let rejection get you down.
Don't think you're better than anybody else - humility is a more sophisticated quality. Just get on with it and don't concern yourself with other peoples work
Be honest with yourself - do you REALLY have what it takes? Know your limits and if you're real special, push yourself past those limits, no matter how long that takes.
You're now on your third issue of your magazine Supplementaire. Tell me a little bit about how this came to life and what your vision is moving forward.
I was getting 70,000+ hits to my photography site each month, which I found staggering. I saw an audience so I decided to create something for them, which was an immediate success. Supplementaire is about true artists, not people who know how to use a camera or do it just for the money. Some people don't get Supplementaire because it's not commercial enough. Good, because they're not the audience we're looking for. You either get it, or you don't.
Your Client Magazine will also be hitting the news stands from the end of July. What can people expect from this magazine?
Client is an unconventional magazine, in that it is not a glossy, but neither is it an anti-glossy. It's about lads, men and menswear - lots of male models. The emphasis is about what is on the pages, not how expensive the paper is. Printed in b/w inside, you can think of it as a newspaper, a scrap book or a 'zine'. It is very eco-friendly, using rough recycled paper and no colour inks, plus we can ship direct from the publisher.
Expect some of the worlds best fashion photographers, some new talent, the hottest male models on the planet, including world-ranking mainboard faces and lots of new faces. You mustn't take Client too serious, it's all a bit of fun.
Client Magazine is now available to purchase. Get your copy here!
A few previews from Client magazine included below: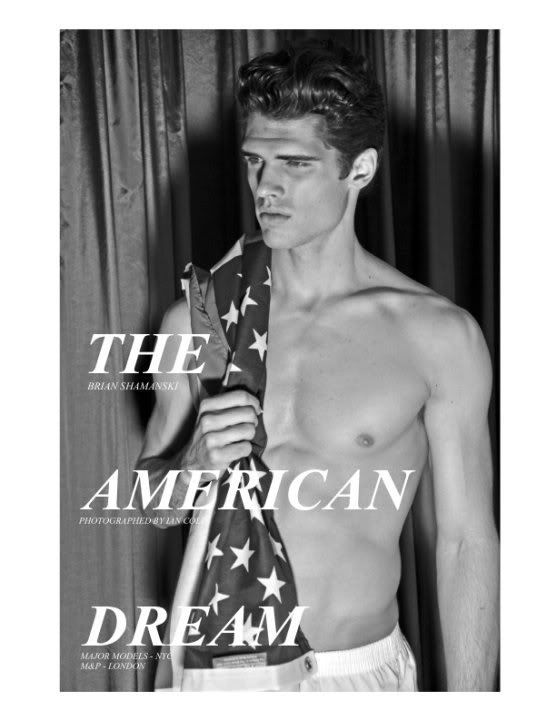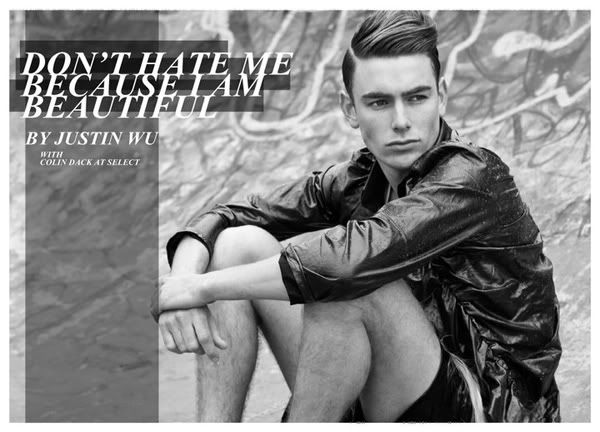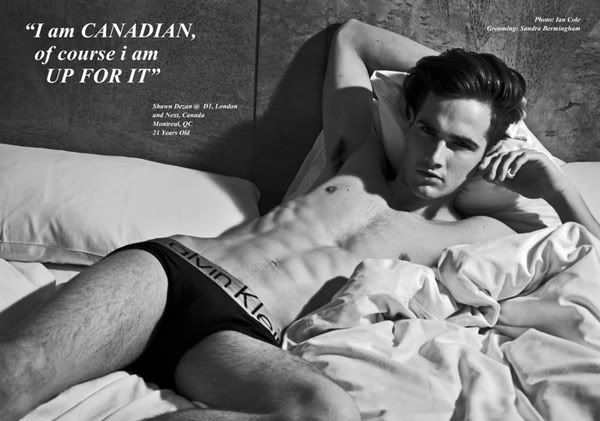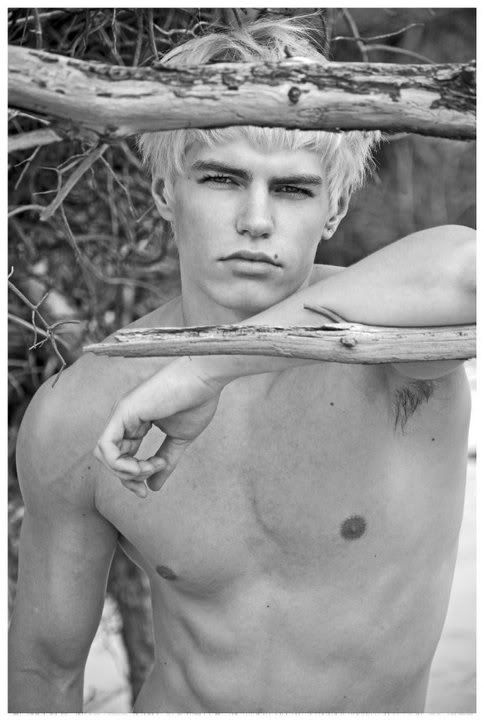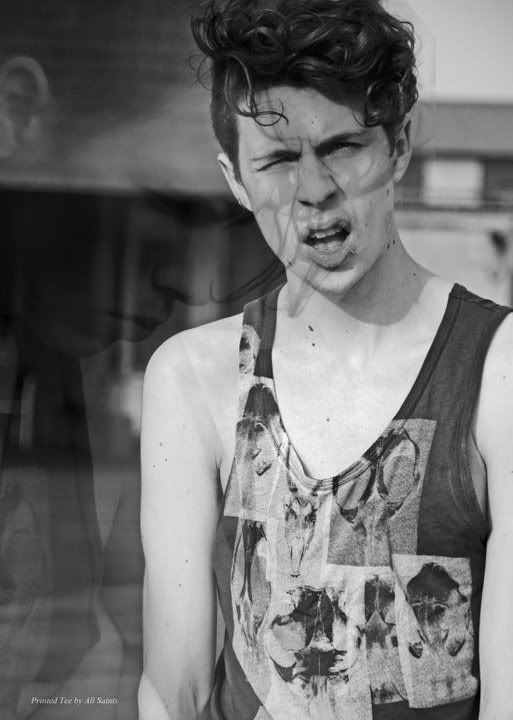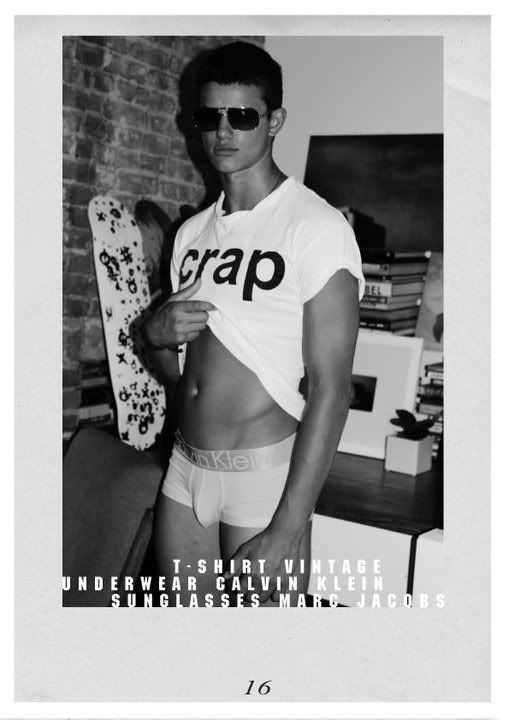 His 1st book "Studs Yearbook '11" will also be out at the end of august in hard-back